Health Care: A Roundtable Discussion – Los Angeles Business Journal
Custom Content by the Los Angeles Business Journal
Tuesday, July 27, 2021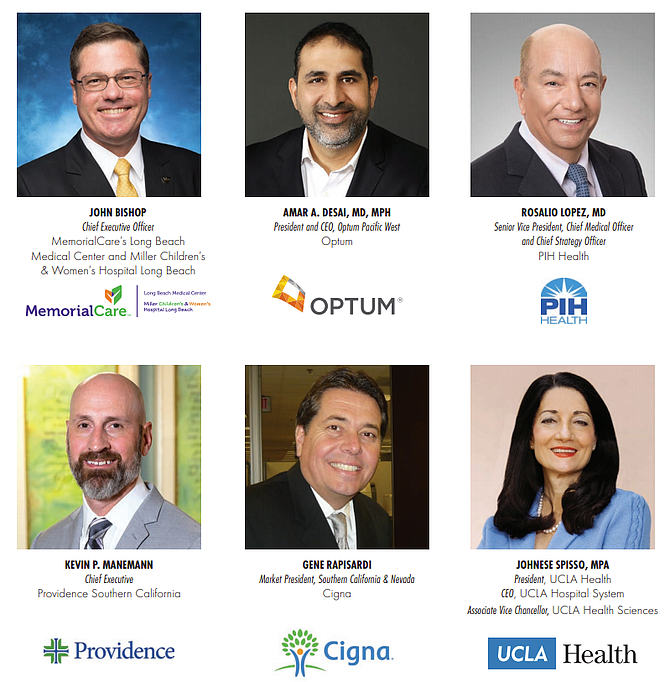 While on the road to recovery from COVID-19 pandemic, what are some of the learnings that we can take away from the experience?
Manemann:  COVID-19 shed light on health inequities in communities of color. At Providence, our mission is deeply rooted in recognizing the inherent dignity of every person. Our founding Sisters have a history of advocating for the rights of those facing racism and discrimination, and their legacy empowers us to work toward a just and equal society. To help reduce health disparities and achieve sustainable health equity for communities of color, Providence invested $1.4 million to expand outreach and education; increase COVID-19 testing and vaccination supply to marginalized communities; promote access to care through neighborhood clinics and virtually through telehealth; and ensure equitable distribution of treatment in Southern California. In addition, Providence is committed to working closely with our valued community partners to address key discrepancies in health conditions such as hypertension in the Black community and access to primary care and screenings for Asian Pacific Islander and Latinx communities.
Spisso: During the pandemic, UCLA Health's focus on innovation in COVID-19 testing, research and clinical trials led to significant results. We were among the first academic health systems in the country to develop its own test to diagnose COVID-19. SwabSeq, the rapid, multiplexed COVID-19 test, was granted FDA emergency use authorization and is capable of testing tens of thousands of samples for COVID-19 at the same time, producing accurate, individual results in 12 to 24 hours. Multi-disciplinary teams at UCLA Health continue to strategically prioritize research aimed at identifying treatments, enhancing testing, preventing transmission and learning more about the virus and the illness it causes. Our continuous investment in scientific approaches will protect the public and help facilitate the safe reopening of more aspects of the economy.
Bishop: One of the biggest things we learned was how quickly we could leverage resources across our integrated health system. MemorialCare is a 1,350-bed nonprofit health system, which includes the two Los Angeles County hospitals I oversee, Long Beach Medical Center and Miller Children's & Women's Hospital Long Beach that make up the second largest hospital campus in the west. Our hospitals and health system came together to problem solve and send resources where they were needed most. Because COVID-19 was not affecting children as dramatically as adults, we took advantage of our shared campus and converted some children's hospital units into overflow adult units. Additionally, many of our children's hospital staff were cross-trained and began working in COVID units. Watching the adaptability and the strength our employees showed in the face of adversity was one of the most inspiring things I have seen during my time in health care.
How dramatically have the health care business and operational landscapes changed in the wake of the COVID-19 pandemic?  

Desai: The COVID-19 pandemic had a dramatic 'fast forward' effect on many aspects of the health care business. Telehealth existed before the pandemic, but COVID-19 radically accelerated the development of these tools and the protocols required to ensure high-quality remote care. And, while clinicians routinely undergo training in infection control and response, COVID-19 created an even greater urgency to be innovative and nimble in response to the pandemic. It also brought health disparities to the forefront of public awareness as we witnessed the tragic impact of the virus on underserved communities, accelerating a much-needed focus on improving health equity. This 'fast forward' effect may be the one silver lining of the pandemic. Out of necessity, we have made health care more accessible, convenient, and nimble. Today, we are solidly in the digital age of health care and better prepared than ever before.
Bishop: The benefits of telehealth will be long-lasting. Patients are becoming increasingly savvy in their health care decisions, and comprehensive digital options will be something that they look for when choosing a health care provider in the future. However, telehealth isn't always the best choice. For complex exams or cancer screenings, which drastically declined during the pandemic, in-person visits are still vital. On the flip side, not all patients have equal access to the resources that would afford them as many health care choices. Health inequities came to the forefront of discussion over the last year and a half, particularly when it came to COVID-19 disease burden and later vaccinations. We partnered with a variety of organizations to educate and build trust among the most underserved and at risk communities. It will increasingly be our role as health care providers to ensure that we continue efforts to increase health equity.
What can the health care sector do to better prepare for a potential future crisis?

Lopez: I think that all health care organizations learned a great deal from this pandemic and our knowledge will help us prepare for future pandemics or health crises. Most health care organizations already had crisis response systems and plans in place, and we drill our staff regularly on multiple situations. Preparation is vital to meet the high demands experienced in a crisis. We learned that we need large amounts of medical supplies, including PPE, and health care vendors must be able to provide ample supplies of materials. We also need to ensure we have plans to hire additional staff and we must maintain strong relationships with the communities we serve. We found, during the pandemic, that our communities stepped up to help in any way they could.
What is your outlook for the future of health care as we move into the second half of 2021?

Spisso: I am hopeful about the future of health care and inspired by the dedication, teamwork and resilience of the amazing physicians, nurses, support staff, students and volunteers at UCLA Health and around the globe. UCLA Health's leading priority for 2021 continues to be to protect the safety of patients and employees while maintaining high-quality clinical care at our four hospitals in Los Angeles and 250 community clinics in Southern California. We are carefully following local, state and national COVID-19 safety guidance and relying on evidence-based practices to continuously improve patient care and outcomes. We also continue to increase support for our community by serving people with limited access to health care services. As a socially and culturally responsible academic medical center in one of the most diverse cities in the country, we champion supporting patients from all walks of life and ensuring UCLA Health uplifts the greater Los Angeles community.
Lopez: Coming out of a period where our focus was primarily on battling COVID-19 to now returning to normalcy, we are redirecting our efforts to the possibilities of the future, with our patients in mind. We have returned to updating our technology and infrastructure to better serve our communities. And, we continue to expand our network of physicians and medical offices to serve a broader population. For example, one of the premiere cardiology practices in Los Angeles, Los Angeles Cardiology Associates, recently joined PIH Health Physicians medical group. By focusing on growth and development in 2021 we expect to provide better care and enhanced service for our patients.

 
What are some of the issues you feel may have been overlooked while battling the pandemic last year?

Rapisardi:  Stigma continues to be a barrier to mental health treatment, which presents a continuing challenge for those of us who promote the concept of whole person health. Nevertheless, we may have reached a significant turning point. During the Covid-19 pandemic, people experienced more stress, anxiety, depression and other behavioral health issues, and became more open about discussing them. Mental health was no longer just for "other people;" it was something that resonated with nearly everyone as we coped collectively with fear of a deadly disease, disruption of our daily lives, job insecurity, financial pressures, social isolation, etc. At the same time, mental health care became more accessible through virtual visits, and people were willing to try it. This growing realization that we are all fragile, combined with easy access to virtual care, will lead to more people getting the mental health care they need. And that will result in a more resilient workforce in the long run.
Bishop: In pediatric health care, we saw a major decline in families accessing specialized services throughout the pandemic – not just at Miller Children's & Women's Hospital Long Beach, but across the country. This was a result of several factors. One, children weren't being exposed to illness or injury due to social distancing. And two, many families delayed care due to fears of being exposed to COVID-19 in health care settings.  However, for children with chronic illnesses, preventative and maintenance care helps prevent complications and hospitalizations in the future, and keeps children as healthy as possible. We may see a trickle effect later down the line as a result of this delayed care. This also is true for adults. Cancer screenings dramatically declined; and as a result, over the next ten years we will likely see an increase in cancer-related deaths from cancer being caught in later stages.
At this point, is it safe to go back into hospitals?
Bishop: It's absolutely safe. We have taken every precaution necessary to ensure the safety of our patients, families and staff, including being diligent about cleaning and sanitizing all areas of our hospitals and utilizing proper personal protective equipment. It's vitally important that people seek care when they need it. This is especially true of those who delayed care throughout the pandemic. As COVID-19 restrictions have lifted and people are returning to social activities, we're once again seeing a rise in injuries and illness, especially in children. In health care, increasing access to specialized care for children will continue to be something we should focus on across the region, especially as children return to school, sports and other social activities in the fall and winter months, when we typically see a rise in respiratory illness.  
What steps are clinics and hospitals taking to ensure patient safety?
Desai: As throughout the pandemic, patient and team member safety has been top priority and we've been in lockstep with local, state and federal health authorities. When COVID-19 began, we stood up an entire safety suite at lightning speed; everything from video-based triage and care, to test sites, to front door screening protocols, PPE replenishment processes, modified socially-distanced waiting rooms and new, multi-mode standard appointment schedules. These processes and approaches have flexed as rates of community spread have varied and most recently, we had to adapt the system again to join the vaccination cause. While the state has begun to reopen, we are still following many of the early pandemic procedures out of an abundance of caution to protect the safety of our most vulnerable patients.
Lopez: For the safety and well-being of all our patients and health providers, PIH Health continues to follow Los Angeles County and Centers for Disease Control and Prevention health guidelines at each of our hospitals, urgent care centers and medical offices. Everyone is screened (not tested) for COVID-19 and required to wear a mask and sanitize hands. Some restrictions on visitors remain in place to limit the number of people in the facilities, but those are being loosened as COVID-19 numbers in the region decline. We always follow the highest standards of infection prevention and disinfection practices to ensure patient safety.
Bishop: While mask requirements have loosened for the general public, we're still taking every precaution necessary in the hospital to prevent the spread of COVID-19, including being diligent about cleaning and sanitizing all areas of our hospitals. All personnel, from the people at the front desk who greet our patients and families, to the nurses, doctors and ancillary staff, are utilizing personal protective equipment (PPE) to ensure the safety of our patients and visitors. Additionally, most of our workforce has been vaccinated to protect against COVID-19. Before entering the hospital or outpatient centers, all visitors are screened, their temperatures are taken, and a mask is provided. Waiting areas are appropriately designed for social distancing of at least six feet between individuals. COVID-19 testing also is available prior to any scheduled procedure and all patients are tested.
How about screenings? Is it now safe and what are the protocols to go in for annual exams, such as a mammography, colonoscopy or lung screening?

Lopez: It is very safe to visit a hospital or medical office for screenings such as mammography, colonoscopy and lung, or any type of care. If you missed a screening or a routine appointment during the pandemic, reschedule it now to help ensure and maintain your good health. In addition to routine and preventative care, patients needing urgent care or emergency care should not hesitate to visit an urgent care center or an emergency room.
For patients who skipped their annual doctor's visit last year due to the pandemic, what are you telling them about "catching up?"

Spisso: The health of our community is our number one priority, and UCLA Health is prepared to address all health care needs. In California and across the United States, data shows a concerning decrease in preventative health care visits during the pandemic. The good news is that it's not too late to get back on track. If you haven't been to your primary care physician in over a year, it's important to make an appointment. Your doctor will check your blood pressure and help you get the tests and screenings you missed. Regular checkups and screenings help you prevent serious conditions, such as high blood pressure (hypertension), cancer and pneumonia. Finding issues early also increases your chance of successful treatment. If the appointment you're scheduling won't require any physical tests or screenings, you can also opt for a virtual telehealth visit.
Manemann:  It's critically important that patients not delay medical care. We are seeing patients with advanced cancer (stage 4) that could have been prevented if the cancer was detected in the earliest, most treatable stages. Patients with chronic conditions such as diabetes, heart disease and high blood pressure, are also at risk. Avoiding care could result in missed opportunities for managing the chronic condition or detecting a new condition. We encourage all patients to schedule appointments with their providers if they skipped their annual exams in 2020. Our medical offices and hospitals adhere to CDC safety guidelines to prevent the transmission of COVID-19. For those who prefer to receive care from the comfort of their home, Providence offers telehealth and ExpressCare Virtual as convenient options for patients to speak with a primary or specialty care provider via smart phone, tablet or computer.
Lopez: If you missed your annual visit, call your doctor's office as soon as you can to schedule an appointment. We have already seen a rise in the number annual visits scheduled and are close to reaching average levels. The more time you wait to schedule an annual visit, the longer you may have to wait for an available appointment. Medicare beneficiaries who are patients of PIH Health are eligible for annual wellness visits at no cost. These visits are designed to help prevent diseases and disability based on your current health and risk factors. Putting off your annual visit can result in developing a medical condition that could have been prevented.

Desai: First, we want to ensure our patients know it's safe to see their doctor. We've implemented stringent safety protocols and are vigilant about making patient safety our number one priority. Our focus on preventive primary care makes annual exams a critical part of keeping our patients healthy so we've been employing an all-hands-on-deck approach to helping patients schedule their annual visit. And, with 6 out of 10 adults in the U.S. with a chronic condition, we are consistently reaching out to these patients to ensure they get the care they need. We also know it's not always possible to go to a clinic, so we offer telehealth options. We've even delivered simple tablets for video visits to patients' homes. Continuity of care is a cornerstone of Optum's value-based care model, so we strive to provide care when and how are patients need it – wherever they are.  
Will outpatient care continue to trend upwards?

Manemann:  Yes. Organizations that are committed to providing value-based care are focusing on care delivery in outpatient settings, as well as virtual and home care, where patients who are medically stable feel more comfortable and tend to recover faster. Consumerism also is driving the trend to outpatient care due to reduced out-of-pocket costs and recovery times. Advancements in minimally invasive surgery have made this shift possible. Many procedures that used to require an in-hospital stay (such as certain orthopedic and cardiac procedures) can now be safely and effectively performed in outpatient surgical centers. Minimally invasive surgery involves smaller incisions, reduced blood loss, shorter recovery time, less pain and reduced risk for infection. In addition, home monitoring technology enables providers to care for patients virtually once discharged.
Southern California has a critical shortage of inpatient psychiatric and behavioral health care, and a rising need. How do we move forward to meet that demand?
Spisso: In 2020, UCLA Health made a major investment in the community with the purchase of the property of the former Olympia Medical Center in mid-Wilshire. We launched an initial planning process for a state-of-the-art major facility renovation, which will include exploration of relocation of inpatient and outpatient mental health services – a dire and unmet need in Los Angeles County with few and shrinking providers of inpatient care. UCLA Health is committed to providing access to care for patients who need our services. With the addition of this campus, we have the ability to expand that access and add hundreds of health care jobs in Los Angeles County. This purchase provides UCLA Health with the potential to contribute significantly to community benefit needs.
If you just received the COVID-19 vaccine, how long should you wait to get a mammogram? 
Lopez: Much has been written in the media about swollen lymph nodes under the arm following the Pfizer and Moderna COVID-19 vaccines. These benign lymph node enlargements will show up on a mammogram, which may cause unnecessary worry. However, reactive or swollen lymph nodes in the area after any vaccine are to be expected. With more data and experience, PIH Health and many other large health care providers are not recommending any delay in screening mammography. We recommend that screening mammograms continue as scheduled.
Telehealth is transforming care delivery. How do you see it impacting your organization and are there specific practices, protocols or innovations developing to improve care?
Rapisardi:  Cigna has been refining and expanding our telehealth model since we first started covering "virtual house calls" in 2007. For many years we have offered telehealth coverage through large national players (like MDLIVE, which Cigna's Evernorth division acquired earlier this year), as well as through independent providers. Cigna covers telehealth for both medical, behavioral and even dental care. In 2020, we added Talkspace to our behavioral provider network, which enables customers to use private messaging (text, voice, and video) to connect with licensed therapists. We recently added Ginger's on-demand virtual behavioral health care platform as an in-network benefit, which provides 24/7 access to therapy, psychiatric and behavioral health coaching services. And in California our customers can access a 12-week app-based virtual care program focused on anxiety, depression and burnout with Meru Health. Technology is rapidly breaking down barriers and making it easier to access care from anywhere at any time.
Bishop: Over the last several years, health care had been shifting to include telehealth capabilities. We implemented telehealth platforms for emergent health needs like strokes or the assessment of a critically-ill infant who was being transported from another hospital. But more than ever, COVID-19 brought to the forefront the need for technological solutions that patients could access regularly and easily. We fully embraced virtual video visits for both our adult and pediatric specialists, which was a critical component in our ability to continue helping our patients manage their chronic health conditions throughout COVID-19. Our health system also launched e-visits for common health conditions, which requires the patient to complete a short online interview and within one hour it's reviewed by a provider and the patient is given a treatment plan. Many of these resources are accessible through our electronic medical record portal, myChart, where patients also can communicate directly with their physician.
Desai: Telehealth created a way to care for patients that is safe, effective, and convenient and we believe strongly that it's here to stay. Through the implementation of telehealth, we've increased access to care not only across our physicians but to ancillary services such as physical therapy, pharmacy, and disease management. Specific successes we've had in unique use cases include tablet delivery services for homebound patients and curbside telehealth visits during the height of the pandemic, supplementing the unprecedented scale of standard telehealth visits with primary and specialty providers. Like others, our telehealth utilization is slowing down as the impact of COVID-19 decreases, but we've been holding steady since this March at 17% of all visits being telehealth. We plan to keep rolling out new use cases and encouraging innovation at the clinic level to continuously improve our telehealth offerings in the months and years ahead.
Manemann:  Providence has transformed care delivery through the use of digital innovation and technology by offering a safe and easy way for patients to speak with their primary or specialty care providers via smart phone, tablet or computer. Between 20-30% of our office visits are virtual. When COVID-19 hit, Providence quickly transitioned to telehealth to provide continued care from the safety of patients' homes. Outside of the pandemic, telehealth continues to increase access to care by eliminating barriers such as transportation, child or elder care issues or the inability to take time off of work for a doctor's visit. And for common conditions such as sinus infections, pink eye, coughs and more, our ExpressCare Virtual enables patients to connect with Providence providers within minutes. Plus, any needed prescriptions can be sent electronically to the patient's local pharmacy. Increasing access to Providence telehealth services will help keep our community healthy.

Spisso: UCLA Health has long been a leader in innovative health care delivery. One of the greatest advances we've seen during the pandemic is the rapid adaptation to telehealth. Before the pandemic, less than 1% of medical appointments at UCLA Health were virtual. Now, that number is about 25%. Telehealth has allowed our physicians and nurses to reach more than half a million patients in the past year. The clinical and research strengths of UCLA Health and the David Geffen School of Medicine at UCLA position us to make a transformative impact on patient care. We are continually adjusting our processes and redesigning our care delivery pathways to ensure our health care professionals provide state-of-the-art care. We actively participate in research and clinical trials to advance health care delivery. We also partner with leading developers to create and integrate new products that can help our patients better manage health care needs.
As health care evolves from fee-for-service to value-based care, how do you maintain quality and accessibility?
Bishop: At MemorialCare, we offer numerous value-based products – which hold us accountable for providing exceptional care at a lower cost – with a goal of keeping patients out of the hospital. We do this by using a coordinated care approach with multi-disciplinary provider teams who work together to eliminate inefficiencies, such as duplicate tests and unnecessary procedures. This also is accomplished by partnering with our patients to manage chronic conditions, resulting in fewer ER visits and hospital stays. Finally, we ensure that care is being provided in an appropriate setting and easily accessible to our patients across Los Angeles and Orange Counties. With MemorialCare, patients have access to more than 260 primary care physicians, more than 2,000 specialists and 200 + sites of care including four leading hospitals and nine urgent care centers.
Manemann:  Providence is focused on keeping our community healthy by providing comprehensive, coordinated and highly effective team-based care in the primary care setting. This patient-centric model meets the important health and wellness needs of our patients. When specialized care is needed, we provide high-quality, evidence-based medicine at every access point in our network. Our focus on quality begins with our Clinical Institute model, which enables our providers to discuss new studies and technologies, their potential benefits to patients and best-practice implementation. The institute model also ensures a streamlined referral process that provides patients with easy access to an impressive list of specialists across our network. Under this care model, if a patient requires a highly specialized procedure, a specialist within the network comes to the patient. This means the patient has access to high-quality care close to home. The institute model also reduces clinical variation, which translates into high-value, high-quality care.
Rapisardi:  It comes down to two words: collaboration and accountability; which is why Cigna named our early value-based care program with physician groups Collaborative Accountable Care. Cigna collaborates with providers to ensure we're all focused on the same goal – getting people connected to the right care that delivers the best quality at the best price, which is the very definition of value. It's a matter of Cigna sharing useful information that the provider might not have about their patients (such as ER visits, hospitalizations, prescription fills) and providing access to resources that can serve as extensions of the practice (health coaching, chronic condition management), while compensating providers for delivering evidence-based care that improves outcomes. And it's a matter of providers being accountable for how they practice medicine.
How has the "consumerism" of health care affected your organization and guided your decisions?

Manemann: Consumers want high-quality care that is affordable and simple to navigate. Through digital innovations and our expanded network of care, Providence provides the kind of care patients want, when, where and how they want to receive it – from virtual office visits, to online appointment scheduling to messaging providers through our online patient portal. For those who prefer same day in-person options, primary care, ExpressCare neighborhood clinics, and urgent care centers provide exceptional and convenient care. In fact, we are growing our network with the goal of being 15 minutes from 15 million people in the communities we serve. And, for continuity of care, we provide referrals to primary care providers and specialists who seamlessly continue the patient's care journey. Equally important, at every access point and in every interaction across the continuum, Providence is unwavering in its commitment to providing an exceptional patient experience.
Desai: At Optum, we aim to deliver an excellent patient experience so that we are patients' first choice for high-quality care. We know that patients have more options than ever – making patient/consumer loyalty a pillar of our strategy. Increasingly, leadership priorities are looked at through the lens of 'will this be a win for the patient?' as a top criterion. We've worked to earn our reputation as one of Southern California's leading medical groups – bringing together care delivery organizations across Los Angeles and Orange County under the Optum name. Our investments over the next 3-5 years in technology, culture, and service offerings are geared towards improving the patient experience and building loyalty. We also continuously monitor patient feedback, advancing our ability to test, learn quickly, and adapt to the pace of change in a consumer market.
How are organizations successfully implementing value-based delivery to reduce the cost of care while also improving quality?
Rapisardi: Cigna's approach to high quality and value-based care involves a strong collaboration between employers, consultants and local health care providers. We work closely with key providers like HealthCare Partners in Los Angeles County. Together we developed the Select Network HMO plan for employers with 100+ employees. This unique plan includes reporting for transparency; analytics and intervention management to reduce overall health risks; closing gaps in care to improve outcomes; and educating employers about programs and services that can help improve health through employee engagement. Our approach has led to 24.7% lower pharmacy spending, 5.7% fewer hospital admissions, 6.5% higher cancer screenings, increased wellness visits, and total health care spend per customer per year that's nearly 20% lower for the Select HMO Plan compared to our full HMO plan.
Desai: High-quality care is essential to the value-based model's objective: keeping patients healthy and out of the hospital. At Optum, we use data to constantly analyze and improve quality using measures such as NPS, patient surveys, and nationally recognized metrics set by Medicare. In value-based delivery, the relationship between a primary care provider and their patients is a leading indicator of quality so we invest in supporting our clinicians with evidenced-based protocols and resources to ensure every provider/patient relationship is as strong as it can be. Because value-based delivery is focused on treating the whole person, rather than just an illness – unnecessary and costly hospital visits can be avoided, and the impact of chronic conditions is lessened – reducing the cost of care. We accomplish this with a focus on primary care and by allocating funds to provide convenient, coordinated care where it is needed most.
Are wellness programs worthwhile investments for employers in 2021?
Bishop: Absolutely. Burnout, stress-related disorders and compassion fatigue rose to epic levels over the last year as our health care workforce faced a global pandemic – further deepening an existing issue. We had to recognize that our employees were dealing with some very traumatic experiences. At the beginning of the COVID-19 pandemic, MemorialCare launched its Caring with Compassion Program that brought together tools and resources to support employee resilience and maintain joy at work. Developing a comprehensive multi-dimensional wellness programs is a journey. It was at times very challenging, but we wanted to create and sustain a culture of support – and saw the positive effects it was having on our employees. While we have turned a corner on this global pandemic, and many things will return to "normal," what will remain is the systemic and comprehensive support in place for our physicians, clinical teams and staff.
Rapisardi:  Cigna just released a study, "The Heart of a Healthy Workforce: Employer-Sponsored Health Plans are Key to Economic Prosperity," showing the link between employer-sponsored health benefits and employee well-being, business productivity and overall economic prosperity. 89% of workers in companies that support well-being initiatives are more likely to recommend their company as a good place to work, and when employees believe their employer cares about their health and well-being, they are 38% more engaged in their work. According to a RAND Corporation study, more than 60% of employers say that wellness programs reduced health care costs by as much as $2.38 per member per month in the first 12 months, and up to $11.12 per member per month by the fourth year of operation. And according to a Kaiser Family Foundation survey, 48% of small firms and 67% of large firms said their wellness and health-screening programs were effective in reducing utilization and related health care expenses. So there is ample evidence showing the significant value of wellness programs.
Why are provider networks critically important from a clinical perspective? What are the benefits for patients?
Desai: From a clinical perspective, provider networks increase clinician access to resources, tools, and expertise, improving efficiency and enabling them to spend more time with patients. It also facilitates better and more rapid uptake of new protocols so we can continue to practice the highest-quality care. At Optum, our providers also enjoy a close network of peers aligned under the same core principles of quality, patient experience, access, and affordability. From a patient perspective, flexibility and choice are key. Provider networks also help patients rest easy, knowing they can expect a similar experience and commitment to quality no matter where they go in the network.

 
Manemann:  At Providence, our expanded network of care includes 141 medical office locations, 1,095 medical group physicians, 3,753 affiliated physicians, 50 urgent care and 24 ExpressCare centers, 11 acute-care hospitals and 20 outpatient surgery centers. The Providence network ensures that patients receive high-quality, safe and affordable care along the continuum and accessibility to a broad base of providers and hospitals. From a clinical perspective, the Providence Clinical Institute model ensures that evidence-based medicine is practiced across the network, ensuring that quality and patient safety standards are met at every access point. The institute model also ensures a streamlined referral process that provides patients with easy access to an impressive list of specialists across our network. In addition, health plans use high-value provider networks such as Providence to reduce premiums and promote affordable coverage for consumers.
What do you think will be the top health news story this time next year?
Lopez: This year emphasized the importance of maintaining good health, and people realized that to have good health, they must maintain a healthy weight. With society opening up once again, physicians and patients can work together to get patients' health to its optimal function. Next year, we can expect to hear news of more patients taking the initiative to lose weight and get in shape to maintain their health. If this year taught us anything, it was that life often brings us things we don't expect, so we should take every opportunity to take control of our health.
For reprint and licensing requests for this article, CLICK HERE.