LA Sports Council Ramps Up Partnerships – Los Angeles Business Journal
By Tom Hoffarth
Monday, February 28, 2022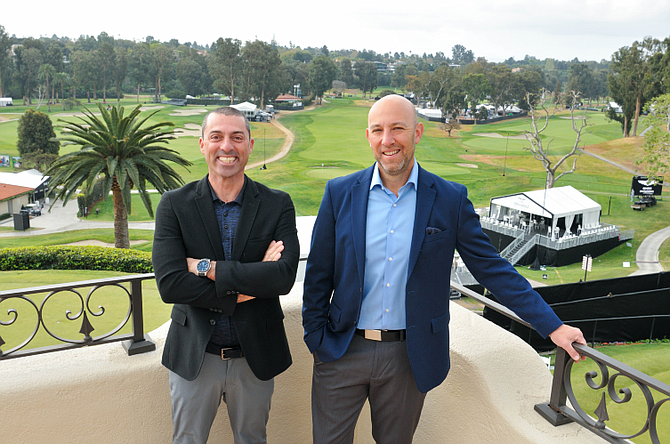 David Siegel, LASC president and chief executive, with Dave Klewan, LASC board chair and general manager of the Genesis Invitational, the annual PGA Tour and Tiger Woods Foundation event that recently wrapped up at Riviera Country Club in Pacific Palisades.
When the Los Angeles Sports Council and its guests convene for a March 7 premiere party at the exclusive Hyde Sunset, a day before the Santa Monica-based nonprofit foundation stages its 17th annual awards show, there will be much to celebrate.
 
Looking at the 16-month stretch of the pandemic from Oct. 2020 to Feb. 2022, fans saw the Lakers, Dodgers and Rams capture an NBA Finals, a World Series and a Super Bowl, respectively. That period also included the opening of SoFi Stadium in Inglewood; the Angels' Shohei Ohtani winning the American League MVP award for his abilities as both a pitcher and hitter; locals April Ross and Alix  Klineman winning beach volleyball gold medals at the 2020 Summer Olympics in Tokyo; the Clippers advancing to their first NBA Western Conference final; and USC football shaking its foundation with a heralded head-coach hiring.

The awards show provides a point in time to pause and acknowledge these notable accomplishments. It will also be an occasion to acknowledge how the business of sports has subsidized the region through these often fan-absent experiences and set a course for recovery.

"We have had an amazing run with sports here the last few years, and you can see not only how all the competition is driving us forward but also the business of sports," said Dave Klewan, LASC board chair and general manager of the Genesis Invitational, the annual PGA Tour and Tiger Woods Foundation event that recently wrapped up at Riviera Country Club in Pacific Palisades.  

"We have really missed the opportunity (to have) a social gathering and for the sports business community to be together," Klewan added.

Economic impact
The mantra of the LASC — "innovate, include, impact" — is also about the intersection of business and sports and how it can inspire creative partnerships.
The LASC was launched in 1988 as a 501(c)3 sports trade association, stemming from the 1984 Summer Olympics. Its 85-member board of directors includes high-level executives from the sports teams in the region, former L.A.-based Olympic athletes, and an eclectic collection of business movers and shakers in the region and beyond.

Its goals have found a lane slightly different from the Los Angeles Sports & Entertainment Commission in how LASC aims to foster community with the region's year-round teams, leagues and venues. LASEC is focused more on attracting national and global events for the region, such as the Super Bowl, FIFA World Cup and 2028 Summer Olympics.

"The groups work synergistically and support all missions together, but we are more laser focused on business opportunities for different properties here and helping them navigate the L.A. region," said Klewan, noting that more than a dozen LASC board members are also part of LASEC. "Our goal is for all tides to rise together and to complement each other instead of duplicate."

David Siegel, who has served as president and chief executive of LASC since 2018, explains that by connecting and uniting the L.A. sports industry, "we facilitate collaboration and thought-sharing to provide a platform for our directors to not only continue building their own businesses but also to make a positive economic and social impact in our community through the collective power of the local sports industry."

During his 22 years in the Dodgers' organization prior to joining LASC, Siegel worked in various revenue-producing departments, including a decade as vice president of ticket sales. He said he knew of LASC in a broad sense prior to joining but has seen his role as "a great opportunity to impact the region as opposed to just one team in a city I grew up in."

Ten years ago, for example, LASC made national headlines when it brought its board members together with government and law enforcement to create a Southern California Fan Code of Conduct and a Fan Behavior Task Force, reacting to fan violence incidents that threatened the safety and business of the teams and venues.

Then-LASC president David Simon marveled at how, for the first time in memory, a majority of teams and facilities from the region covering 20 million residents sat down together to share best practices.
 
"We got all the venues singing from the same hymn books," Simon said.
In what Siegel today calls the "LASC 2.0" movement, the council decided an economic impact analysis of the sports industry in the Greater L.A. area was essential to create a common baseline for all to work from moving forward.

LASC shared that report at its inaugural three-day L.A. Sports Summit in June 2019, based on an independent study conducted by the LA County Economic Development Corporation's Institute for Applied Economics.

The report analyzed all 11 major professional teams; NCAA Division I, II and II schools; stadiums, arenas and sports facilities; as well as annual events such as the L.A. Marathon, Grand Prix of Long Beach, NASCAR's WISE Power 400 at Auto Club Speedway in Fontana and PGA's Genesis Invitational. It concluded that in 2018 the region produced $6.2 billion in economic output, created 39,000 jobs and generated $3.3 billion in labor income. The report also found that fans spent $770 million on tickets, food and souvenirs, and $280 million in revenue came from university athletic programs.
 
The 11.3 million fans attending events corresponds with how there was a 63.4% increase of spectator sports wage growth from 2006 to 2016, as well, according to the report.

The pandemic has delayed LASC from pursuing an updated study til this year, but Siegel said a revised study should be ready for the next LASC Sports Summit in August. Future studies will not only include the LPGA's JTBC L.A. Open at the Wilshire Country Club (started in 2018) and teh new JTBC Championship at Palos Verdes Golf Club this April, plus the Angel City Football Club (starting this summer), but also likely will take into account how the burgeoning industry of sports wagering factors into the numbers — if and when California voters approve ballot measures currently being framed.


LA playmakers
Ron Turner, a renowned architect of sports facilities for San Francisco-based Gensler, which has offices in downtown L.A., said his time on the LASC board helped him stay connected with clients such as the NFL's Chargers, which had been seeking a new headquarters and recently found property in El Segundo. Gensler is now designing it as well as a new headquarters for the Rams.

"The Sports Council is near and dear to my heart because it's about sports and it's something important for the city," said Turner, who also served as lead architect in the revamping of the newly renamed Crypto.com Arena (formerly Staples Center) as well as the creation of Banc of American Stadium.
 
"Community participation is our primary goal as well as theirs, bringing everyone together and aligning the industry," he said. "It's about projecting your brand in the community. I like how I can be a connector and see things happen in this city — that includes addressing the homelessness issue, upgrading the airports."

Turner also points to the success of LASC's tent-pole community program, "Ready, Set, Gold" that invests in youth fitness outreach. During Covid, the program pivoted to a digital classroom series to help kids stay active.

Rob Thun, chief content officer at El Segundo-based DIRECTV and vice chair at LASC, added, "As a leader in entertainment with deep roots in Southern California, we value all our community partnerships, including with the L.A. Sports Council, where we relish the opportunities to openly share ideas with local leaders from businesses throughout the region."
 
Using the upcoming awards show as an example, businesses such as San Dimas-based Curative Inc. and Mattress Firm Inc. have come on with creative partnerships with LASC.
 
As the title sponsor of the awards show, Curative has a platform to explain its presence in the region as a Covid-19 testing site — it conducted its work at Dodger Stadium for many months during the first half of the pandemic.
 
Jamil Sabbagh, general manager, West field operations for Curative, said that its ability to quickly scale Covid-19 testing sites around Southern California at the time showed "the importance and health benefits of sports-related community activities, so partnering with the L.A. Sports Council was a natural fit. As a company, we want everyone to get back to the activities they love, and we can help through our public health services including turnkey programs and easy-to-access experiences made possible for all types of sporting stadiums and venues."

Mattress Firm, a national chain, is expanding its reach with a focus on the impact of a healthy lifestyle.
"They understand that by getting in front of pro athletes at our event, it presents an opportunity they wouldn't get elsewhere," said Siegel.

Siegel looks forward to the awards show gathering, which pre-Covid had been filmed before a live audience at the Beverly Hilton since 2005. The show now airs on Spectrum SportsNet as a taped event.
 
But the party the night before has become "a must-attend industry event with an opportunity to connect with others in the L.A. sports ecosystem," said Siegel of the ceremony that honors a sportsman, sportswoman, coach and executive of the year, as well as the presenting the Greatest Moment of the Year award based on an online vote.

"Everyone knows we have a thriving sports community, and each of those organizations do so much in the community on their own," Siegel said. "You won't find a more powerful group in all of sports (than) with our board." 
For reprint and licensing requests for this article, CLICK HERE.