Live updates: Russia invades Ukraine – CNN
1 min ago
First lady Jill Biden to US military families: "History is being written in front of us"
From CNN's Kate Bennett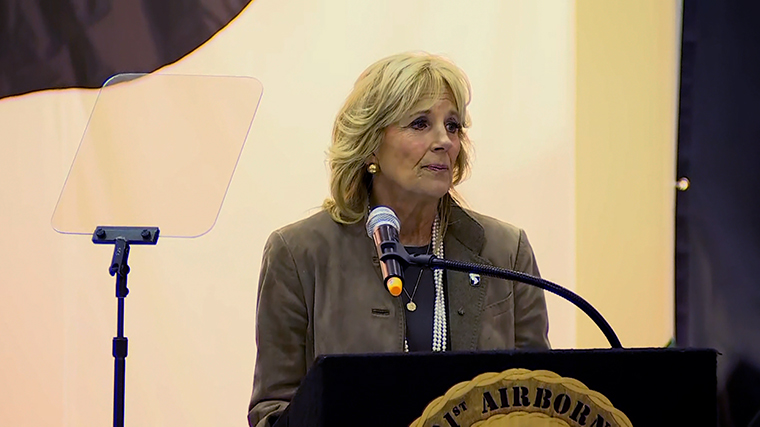 Speaking to US military families at Fort Campbell in Kentucky Wednesday, first lady Jill Biden addressed the Russian invasion of Ukraine, saying the US administration would hold Russian President Vladimir Putin accountable for his actions in the country.
"There are moments when we suddenly realize that history is being written in front of us — when we can almost feel ourselves cross the line that will divide our world into 'before' and 'after,'" Biden said.
"This is one of those moments. It's tough to watch the news, isn't it?"
Many of the relatives present had a family member deployed with the 101st Airborne, aka the Screaming Eagles, to assist American allies in Europe. 
Addressing them directly, Biden said, "The Screaming Eagles are there in Europe, standing with our allies and welcoming Ukrainian refugees." 
She echoed the US administration's position on the Russian invasion, saying, "We are holding Putin accountable for his war through diplomacy with crippling sanctions. We are providing Ukraine with economic, humanitarian, and security assistance."  
19 min ago
Chernobyl nuclear plant has been disconnected from the power grid. Here's what we know
Ukraine's Chernobyl nuclear plant has been disconnected from the electricity grid and lost its supply of external power, Ukraine's energy operator Ukrenergo and state-run nuclear company Energoatom said Wednesday.
It comes two weeks after Russian forces seized control of the plant, which was the site of the world's worst nuclear disaster in 1986.
Here's what we know:
"No critical impact": The International Atomic Energy Agency (IAEA) said it had been told by Ukraine that Chernobyl had lost power, but that it saw "no critical impact" on the plant's safety. 
"Specifically, regarding the site's spent fuel storage facility, the volume of cooling water in the pool is sufficient to maintain effective heat removal from the spent fuel without a supply of electricity. The site also has reserve emergency power supplies with diesel generators and batteries," IAEA Director General Rafael Mariano Grossi said in a statement.
Operations paused: The Chernobyl site is not currently operational and handling of nuclear material has been halted, the IAEA said, citing information from Ukraine's nuclear regulator. The facility holds decommissioned reactors as well as radioactive waste facilities.
However, the lack of power "is likely to lead to a further deterioration of operational radiation safety at the site," Grossi said.
Kyiv's warnings: Ukraine's Foreign Minister Dmytro Kuleba and the country's security and intelligence service warned of a possible radiation leak after the plant was disconnected.
"Reserve diesel generators have a 48-hour capacity to power the Chornobyl NPP. After that, cooling systems of the storage facility for spent nuclear fuel will stop, making radiation leaks imminent," Kuleba said in a tweet Wednesday. 
Ukraine's technical security and intelligence service echoed Kuleba's concerns, warning that "all nuclear facilities" in the Chernobyl exclusion zone were without power, and that if the pumps could not be cooled, a "nuclear discharge" could occur. 
Neither Kuleba nor the intelligence service commented on whether the diesel generators could be sustained beyond the 48-hour period.
Lines down: On Tuesday, the IAEA said it had lost contact with remote data transmission from safeguard monitoring systems at Chernobyl. 
Staff pushed to the limit: The loss of power at Chernobyl has raised further concerns for some 210 personnel that have been working for two weeks straight at the site since Russian forces seized control of the facility. Grossi said they have been effectively living there, working around the clock and unable to rotate shifts.
"From day to day, we are seeing a worsening situation at the Chornobyl NPP, especially for radiation safety, and for the staff managing the facility under extremely difficult and challenging circumstances," Grossi said. "I repeat my urgent appeal to the forces in effective control of the plant to respect internal radiation protection procedures, to facilitate the safe rotation of staff and to take other important steps to ensure safety."
Eight of Ukraine's 15 nuclear reactors are currently operating, including two at Europe's largest nuclear power plant in Zaporizhzhya — which is also now under Russian control —  and that radiation levels still appear normal, Ukraine's nuclear regulator told IAEA.
44 min ago
Top US general in Europe says anti-tank, anti-aircraft weapons most effective for Ukraine — not MiG-29s
From CNN's Oren Liebermann
The most effective way to support the Ukrainian military is with additional anti-tank and anti-aircraft weapons — not MiG-29 fighter jets, according to America's top general in Europe.
Echoing an earlier statement from Pentagon press secretary John Kirby, the commander of US European Command Gen. Tod Wolters said the Ukrainians were "making excellent use of these weapons now," limiting the ability of Russian military aircraft to operate freely.
Wolters added that Ukraine already has "numerous" aircraft flying daily, and that adding more would not give the Ukrainian Air Force a relative advantage.
"Therefore, we assess that the overall gain is low," he said.
Any transfer of MiG-29s also risks escalating the conflict, he said.
Some context: On Tuesday, the Pentagon dismissed Poland's proposal to transfer its MiG-29 fighter jets to the US for delivery to Ukraine, calling it not "tenable." 
Kirby said Wednesday the US intelligence community believes transferring MiG-29s to Ukraine now could be seen by Russian President Vladimir Putin as an "escalatory step" that "could result in significant Russian reaction that might increase the prospects of a military escalation with NATO."
1 hr 4 min ago
Nearly 35,000 people rescued through humanitarian corridors, Zelensky says
From CNN's Mariya Knight and Hira Humayun
Ukrainian President Volodymyr Zelensky said "all in all almost 35,000 people were rescued" via the humanitarian corridors established Wednesday.
"Today we were able to organize three humanitarian corridors: from the city of Sumy, from city of Kyiv and Kyiv region, and from Enerhodar," he said, adding that efforts will continue Thursday.
Zelensky said Ukrainian authorities were preparing six humanitarian corridors to get people out of areas under attack by Russian forces.
"We are praying to be able to evacuate people from Mariupol, from Izium, from Volnovakha, etc. to evacuate to safe places of free Ukraine. And I'm sure that every Ukrainian that knows these people need help will make sure these people feel cared for," he said.
While some routes were successful in evacuating people to safety, others had to be abandoned.
What happened: Local authorities in areas close to Kyiv that have been under attack for more than a week said efforts to evacuate people to safety Wednesday failed. The city council of Bucha said 50 buses had been blocked by the Russian military in nearby Stoyanka.
19 min ago
Woman killed along with children in weekend's Russian shelling had ties to global tech company
From CNN's Abby Baggini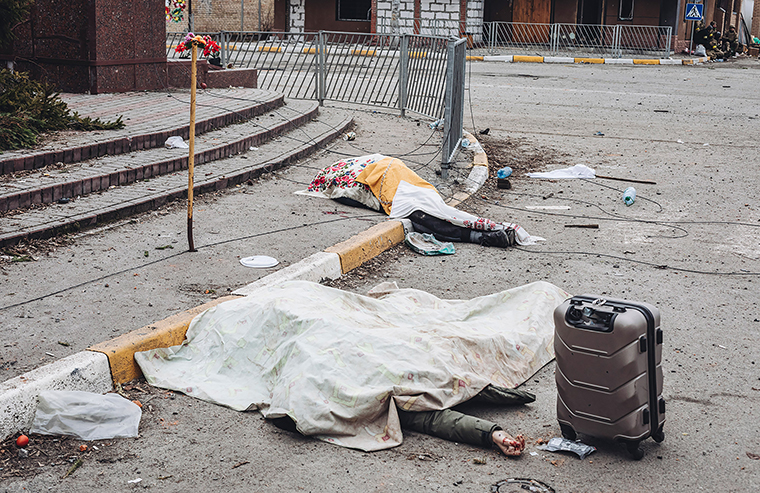 Tatiana Perebeinis and her two children — Alise, 9, and Nikita, 18 — were killed on Sunday by Russian shelling as the family tried to evacuate Irpin, Ukraine, according to a statement from her employer, SE Ranking.
Another unidentified man, thought to have been a family friend, also died from the blast.
Perebeinis, 43, served as SE Ranking's chief accountant. The Bay Area tech company issued a statement on Monday confirming the deaths.
"There are no words to describe our grief or to mend our pain. But for us, it is crucial to not let Tania and her kids Alise and Nikita remain just statistics. Her family became the victim of the unprovoked fire on civilians, which under any law is a crime against humanity," the company said in the statement.
Ksenia Khirvonina, a PR manager for SE Ranking, said Perebeinis was originally from Donetsk and fled to Kyiv in 2014 following the city's occupation. Tatiana, her children, and her husband had been living in an apartment in the northern city of Irpin, just outside Kyiv, since 2018. 
Though much of Irpin had been left without water supply, electricity, and heating, Perebeinis was hesitant to leave the city because she had been taking care of her sick mother. One day before they fled, the apartments above their home were bombed, forcing them to take shelter in the basement of their building, where they remained until Sunday, according to Khirvonina.
"Even from there, she was telling us everything's okay, was cheering everyone around her, and texting my colleagues that everything's gonna be okay," Khirvonina said. 
According to Khirvonina, Perebeinis had wanted to leave on Saturday, but ultimately decided to wait to leave through the "green corridor" with other civilians. 
Ukrainian photojournalist Andriy Dubchak captured the moment the family was struck by a mortar shell in a graphic video published by the New York Times. 
"The Russian army are criminals, and they should be stopped. Our hearts are broken. Our prayers are for all Ukrainians, who are fighting for their right to exist," the company said.
Perebeinis was taken to a nearby hospital, where she later passed. Nikita, a university student, and Alise were killed immediately. The man with them also survived the initial blast but later died, according to the New York Times.
Previous media reports had mistakenly identified the man as the father of the children. Perebeinis' husband — with whom SE Ranking has been in touch — was not fleeing Irpin with the family and was in a different city at the time of their deaths. 
Khirvonina said she did not know where Perebeinis and the children were planning on fleeing to, but that it likely would have been a western Ukrainian city. Ukrainian men over the age of 18 are banned from leaving the country, and Perebeinis had refused to leave her son Nikita.
"My overall impression was that they had a great family, they were united," Khirvonina said. "Tatiana herself was very kind, very supportive person, you could always come to her to ask for advice for work advice or life advice, it didn't matter. She always cheered everyone around her up or with her stories and with her jokes. She was truly a great person."
SE Ranking, which specializes in search engine optimization (SEO), has a global presence, including in San Francisco; London; Minsk, Belarus; Kyiv and Moscow.
Hear from the photojournalist who captured the moment:
2 hr 14 min ago
A Ukrainian photographer is using TikTok to turn war zone destruction into art
From CNN's Shelby Rose
Sirens blare in the distance. Everywhere she looks, there's devastation. Windows are cracked and pieces of wood and building debris lie scattered in the streets. The streets are eerily empty.
This is the scene that Ukrainian photographer Valeria Shashenok witnesses every day when she walks down the street in war-torn Chernihiv, Ukraine. Shashenok is taking shelter in an underground bunker with her mother, father and dog "Tory" in the northern Ukrainian city. Her close friends have already fled.
But instead of wallowing in the destruction around her, Shashenok has turned the war into art.
Shashenok is using TikTok to document her daily life. Her videos have gone viral, some getting millions of views.
In another video, Shashenok stands before a pile of rubble. The caption says, "Today Putin destroyed one of the old building(s) in my city. It was a cinema that survived World War II." Then she shows large windows nearby, the glass shattered on the ground. "Windows flew out from the force of impact in neighboring houses too."
You can see more of Shashenok's videos and read more of her story here.
2 hr 7 min ago
Polish Ambassador says Poland was "acutely aware" of consequences of proposal to transfer jets to US to give to Ukraine
From CNN's Paul LeBlanc
Polish ambassador to the US Marek Magierowski said Wednesday that Poland was "acutely aware" of the consequences involved with its proposal to transfer its MiG-29 fighter jets to the United States for delivery to Ukraine.
"We were under immense pressure on the part of our allies, and public opinion also here in the United States. And we were acutely aware of all technical, legal, and diplomatic consequences of such a move — which was risky, of course," Magierowski told CNN's Wolf Blitzer on "The Situation Room."
"That is why we came up with a logical, conscionable solution. Our American partners rejected this proposal, because they have come to the conclusion that it was too escalatory. Well, we understand this, and I believe that we can continue coordinating our joint efforts with our American partners, and with other NATO members in order to help the Ukrainians defend themselves as effectively as possible."
Pentagon press secretary John Kirby said in a statement that the Pentagon did not believe Poland's proposal was "tenable," just hours after Polish officials released a statement saying the government was ready to deploy all of its MiG-29 fighter jets to US Air Force's Ramstein Air Base in Germany so they could then be provided to Ukraine in its fight against Russia.
2 hr 38 min ago
US Commerce Secretary says "there's no expiration date" on sanctions against Russia
From CNN's MJ Lee and Kaitlan Collins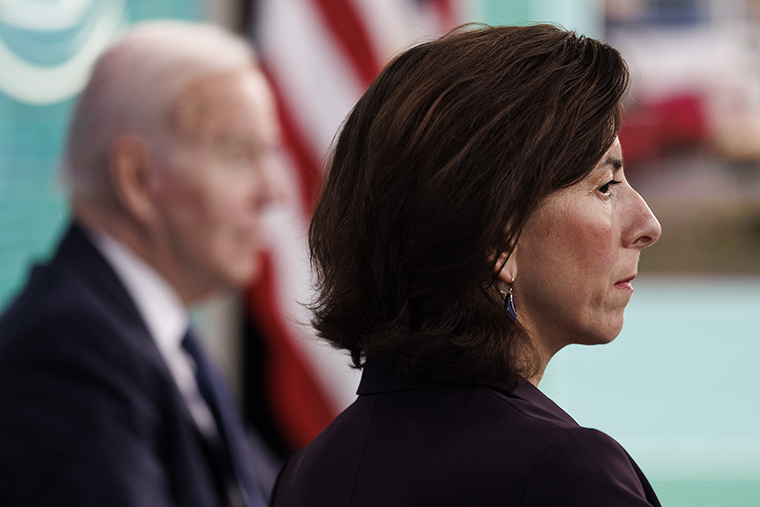 US Commerce Secretary Gina Raimondo said Wednesday that the export controls that have been leveled against Russia by the United States and its allies in response to Vladimir Putin's invasion of Ukraine have "no expiration date."
"We're in it for the long haul and our allies are in it for the long haul," Raimondo told CNN, adding that the Biden administration is prepared to stick with the measures designed to inflict economic pain on Russia for "as long as it takes."
"There's no expiration date," Raimondo said. "We're in it to win it and our allies are too."
The comments, coming from a member of President Joe Biden's Cabinet, is yet another indication that the administration is bracing for a potentially prolonged and protracted conflict in Europe that has already roiled financial markets and that the White House has assessed would hurt American consumers' wallets.
"This is going to be messy and probably extremely long term," Raimondo predicted about the crisis.
Raimondo also warned that any country that does not abide by US restrictions on exporting to Russia would pay a heavy price — including China. She said her administration was prepared, for example, to cut China off from American or European equipment and software that are necessary to make semiconductors.
"We're going to prosecute any company, wherever they are, in China or elsewhere, who violates the rules," she said. "So our expectation is that China won't violate the rules, and if they do, there will be consequences."
White House Press Secretary Jen Psaki said Wednesday that the administration had observed China "largely [abiding] by the sanctions that have been put in place."
"I would note, though, that if any country tries to evade or work around our economic measures, they will experience the consequences of those actions," Psaki said.  
3 hr 12 min ago
How the US is trying to help Ukraine without triggering a wider war with Russia
From CNN's Jeremy Herb, Jeremy Diamond, Kevin Liptak, Natasha Bertrand, and Lauren Fox
The swift US rejection of a Polish plan to get MiG-29 fighter jets into Ukraine is the clearest example yet of the complications that the US and its NATO allies face trying to help Ukraine defend itself against Russia's brutal assault while ensuring they don't get dragged into a wider war.
The negotiations fell apart almost as quickly as they came together.
Poland's announcement on Tuesday that it was ready to provide MiG fighter jets to Ukraine via a US Air Force base in Germany caught the US off-guard. By Wednesday morning, US and Polish officials were still discussing the prospect of providing fighter jets to Ukraine, an administration official told CNN.
But on Wednesday afternoon, the Pentagon bluntly announced it was opposed to the idea, which Defense Secretary Lloyd Austin conveyed in a call to his Polish counterpart.
"Secretary Austin thanked the minister for Poland's willingness to continue to look for ways to assist Ukraine, but he stressed that we do not support the transfer of additional fighter aircraft to the Ukrainian air force at this time, and therefore have no desire to see them in our custody either," Pentagon press secretary John Kirby said at a briefing.
The episode underscores how the US and its allies may be reaching the limits of what they can do to help Ukraine – while staying out of the conflict – and points to possible cracks in an alliance that has remained strongly unified in the early part of the war as members enacted stiff sanctions and provided security aid.
It also demonstrates that the Biden administration is still working to get on the same page.
You can read the rest of this story here.