Metro Planning Rail Routes into County's Southeast Quadrant – Los Angeles Business Journal
Monday, December 20, 2021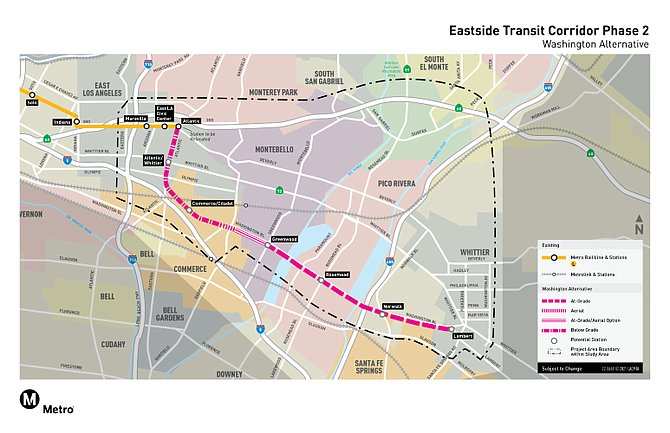 ROUTE: The proposed corridor starts at the current Eastside Transit Corridor terminus at Atlantic Avenue just east of East Los Angeles Civic Center, heads south to Washington Boulevard, then southeast along Washington through Commerce, Montebello, Pico Rivera and ending in Whittier. LENGTH: Approximately 9 miles NUMBER OF STATIONS: 6 COST: $3 billion PROJECTED CONSTRUCTION START DATE: 2029 PROJECTED CONSTRUCTION COMPLETION DATE: 2035 NOTABLE: For several years, this was one of two main route options. The other would have run along the 60 (Pomona) freeway to South El Monte and cost another $3 billion to build.
The Los Angeles County Metropolitan Transportation Authority is in planning stages for two projects that would extend rail deeper into the heavily industrialized southeast quadrant of Los Angeles County.

The first is a $3 billion project that would extend the Eastside Transit Corridor from its current terminus at Atlantic Boulevard in East Los Angeles mostly along Washington Boulevard into Whittier.
 
The second is an $8.6 billion project that would run a rail line from downtown in a southeasterly direction to Artesia.

Both projects would bring rail to some of L.A. County's densest commercial and industrial areas, in communities with large immigrant populations, such as Artesia, Huntington Park and Pico Rivera. Currently, the quadrant has two rail routes, the A (Blue Line to Long Beach) and the C (Green Line) from the South Bay to Norwalk.
Construction isn't slated to start on either project until 2028 at the earliest with completion several years beyond that.
 
The $3 billion Eastside Transit Corridor Phase 2 project is actually an extension of the existing L (Gold) Line, which now goes through the northern San Gabriel Valley to Azusa and on the south side ends at Atlantic Avenue just south of the 60 freeway.
For several years, Metro was considering two main route alternatives for the southern portion of this horseshoe: east along the 60 freeway to South El Monte or southeast along Washington Boulevard to Commerce. In November 2020, Metro's board decided to focus first on the Commerce route, putting off the 60 freeway option until the mid-2050s.

Last month, Metro held a series of community meetings updating the project and soliciting input on station locations. The agency is now preparing a draft environmental impact report, slated for release around the middle of next year.
As for the West Santa Ana Branch project, Metro faces a significant funding gap. Under Measure M, which was approved by voters in 2016, the cost was pegged at about $4 billion. But in a draft environmental impact report released earlier this summer, the estimate more than doubled to $8.6 billion with Metro only having about $1 billion committed from Measure M and predecessor transit funding Measure R (passed in 2008).
 
According to a report prepared for Metro's board meeting earlier this month, the agency is proposing to tap a federal competitive grant program for $3.1 billion and also is considering a public-private partnership in which private-sector infrastructure companies would bring roughly $2 billion in financing to the table, to be repaid with interest from future project revenue. The report stated that Metro had received public-private-partnership proposals from several private sector firms.

The other set of alternatives outlined in the report is to only complete a segment of the project starting from the Artesia station at Pioneer Boulevard. One option would be to extend the route 14 miles to the A (Blue) Line at Slauson Avenue at a cost of $4.9 billion. Construction on this segment could wrap by 2038, three years ahead of the original timetable for the entire 19-mile project.

In the report, Metro stated it intends to come back to the board early next year with its best option for proceeding.
For reprint and licensing requests for this article, CLICK HERE.