The latest on the Ukraine-Russia crisis: Live Updates – CNN
1 min ago
Ukrainian-controlled part of Luhansk announces general evacuation
From CNN's Richard Allen Greene
The Ukrainian-controlled part of Luhansk announced a general evacuation on Thursday morning as Russia attacked Ukraine.
"We recommend residents of Luhansk region to leave the region immediately," the head of the Luhansk Regional State Administration, Serhiy Haiday, said on Facebook.
"The owners of vehicles should move in the direction of the Dnieper river on their own."
Evacuation by train is being organized for those who cannot leave independently, he added, directing people to the Lysychansk, Rubizhne and Svatove train stations.
"During the evacuation, please remain calm and listen to the instructions of the authorities, the National Police and the State Emergency Service of Ukraine," he said.
Luhansk is one of two separatist regions backed by Russia, along with Donetsk. Both regions, known as oblasts in Ukrainian, are split between parts controlled by Ukraine and by pro-Moscow separatists.
3 min ago
Ukraine says it was attacked through Russian, Belarus and Crimea borders
From CNN's Tim Lister and Julia Kesa in Kyiv
Ukraine was attacked through multiple borders, the Ukrainian state border service said early Thursday.
"At about 5:00 a.m., the state border of Ukraine in the area with the Russian Federation and the Republic of Belarus was attacked by Russian troops supported by Belarus," the service said. 
It added that attacks are being carried out in Luhansk, Sumy, Kharkiv, Chernihiv and Zhytomyr regions — areas on the eastern and northern borders of Ukraine. The attacks are targeting border units, border patrols and checkpoints using artillery, heavy equipment and small arms, the border service said.
"In addition, the attack takes place from the Autonomous Republic of Crimea side," said the service.
Ukraine is firing back: It added that border guards, along with Ukraine's Armed Forces and National Guard, are "firing at the enemy" depending on the situation on the border.
12 min ago
US Embassy in Kyiv says its aware of military engagements "within Ukraine"
From CNN's Jennifer Hansler
The US Embassy in the Ukrainian capital, Kyiv, said in a Twitter post Thursday that it is "aware of military engagements within Ukraine."
"We will continue to monitor and provide updates. Americans are encourage to monitor this account and @TravelGov as we issue updates," the tweet said.
State Department spokesperson Ned Price said Wednesday that the small group of US diplomats who have remained in Ukraine were continuing to sleep in Poland and commuting to the western Ukrainian city of Lviv.
Price said they had "every expectation that they will continue to do so as long as the security environment remains permissive."
CNN has asked the State Department whether US diplomats returned to Ukraine on Thursday.
US officials had repeatedly urged Americans to leave Ukraine as they warned Russia could invade at any time.
13 min ago
Putin spoke with Belarus' Lukashenko on the Ukraine situation
From CNN's Nathan Hodge in Moscow
Russian President Vladimir Putin and Belarusian President Alexander Lukashenko spoke by phone on Thursday, according to Belarusian state news agency Belta.
"At about 5:00 a.m. today, a telephone conversation took place between the Presidents of Belarus and Russia, during which Vladimir Putin informed his Belarusian counterpart about the situation on the border with Ukraine and in the Donbas," Belta cited the Belarusian presidential press service as saying.
Troops entering Ukraine via Belarus: CNN has witnessed, through a livestream video, troops atop a column of military vehicles entering Ukraine from a border crossing with Belarus.
15 min ago
Troops and military vehicles have entered Ukraine from Belarus
From CNN's Paul Murphy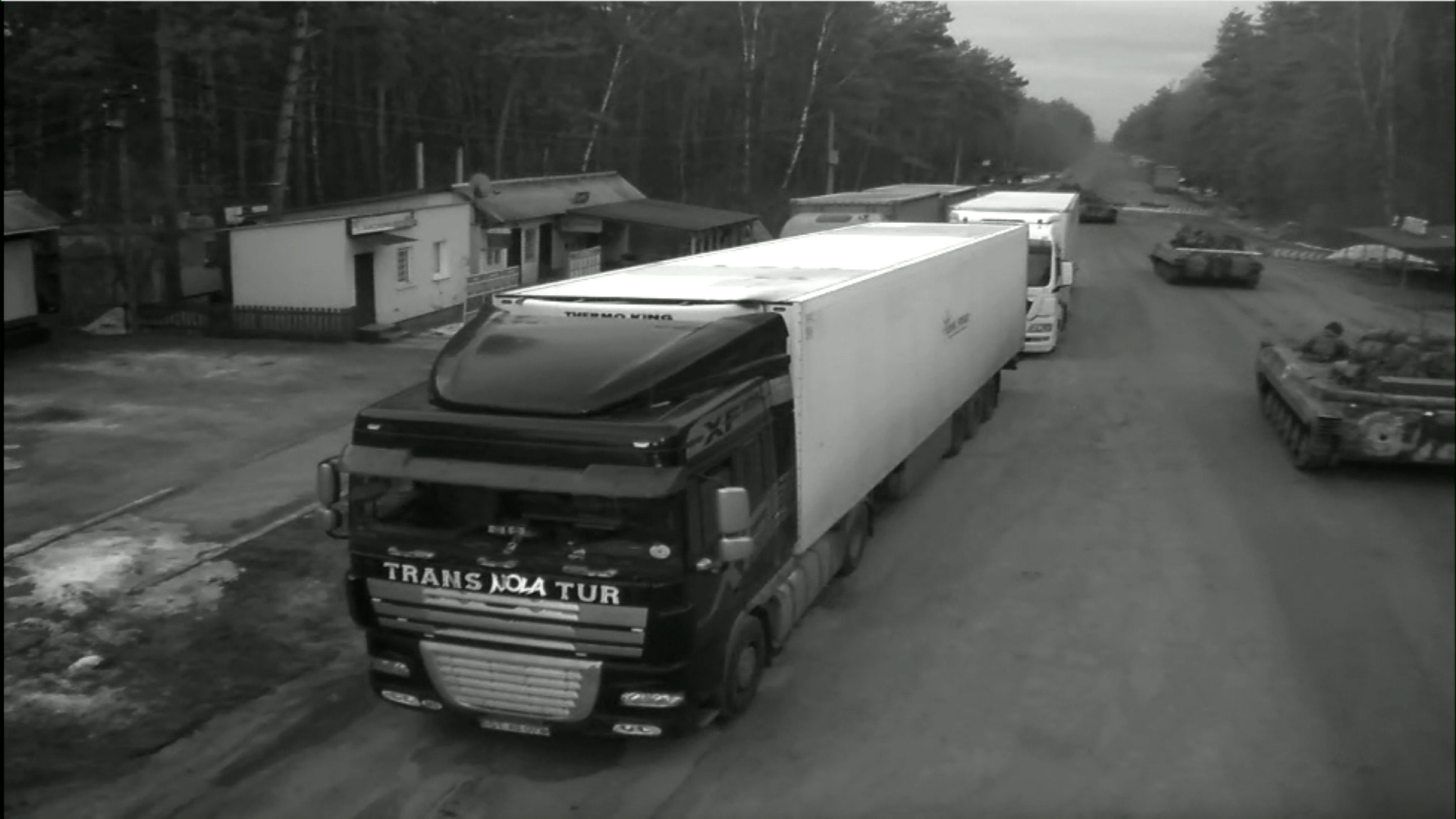 CNN has witnessed, through a livestream video, troops atop a column of military vehicles entering Ukraine from a border crossing with Belarus.
The livestream video was taken at the Senkivka, Ukraine crossing with Veselovka, Belarus. The column was seen entering Ukraine around 6:48 a.m. local time. 
In recent weeks, Russia has amassed a significant number of troops, vehicles and tanks in Belarus near the border with Ukraine. During that time, the two countries have held joint military exercises across the countries, and near the Belarus-Ukrainian border.
17 min ago
Biden says he condemned Russian attack in call with Ukraine's Zelensky
From CNN's DJ Judd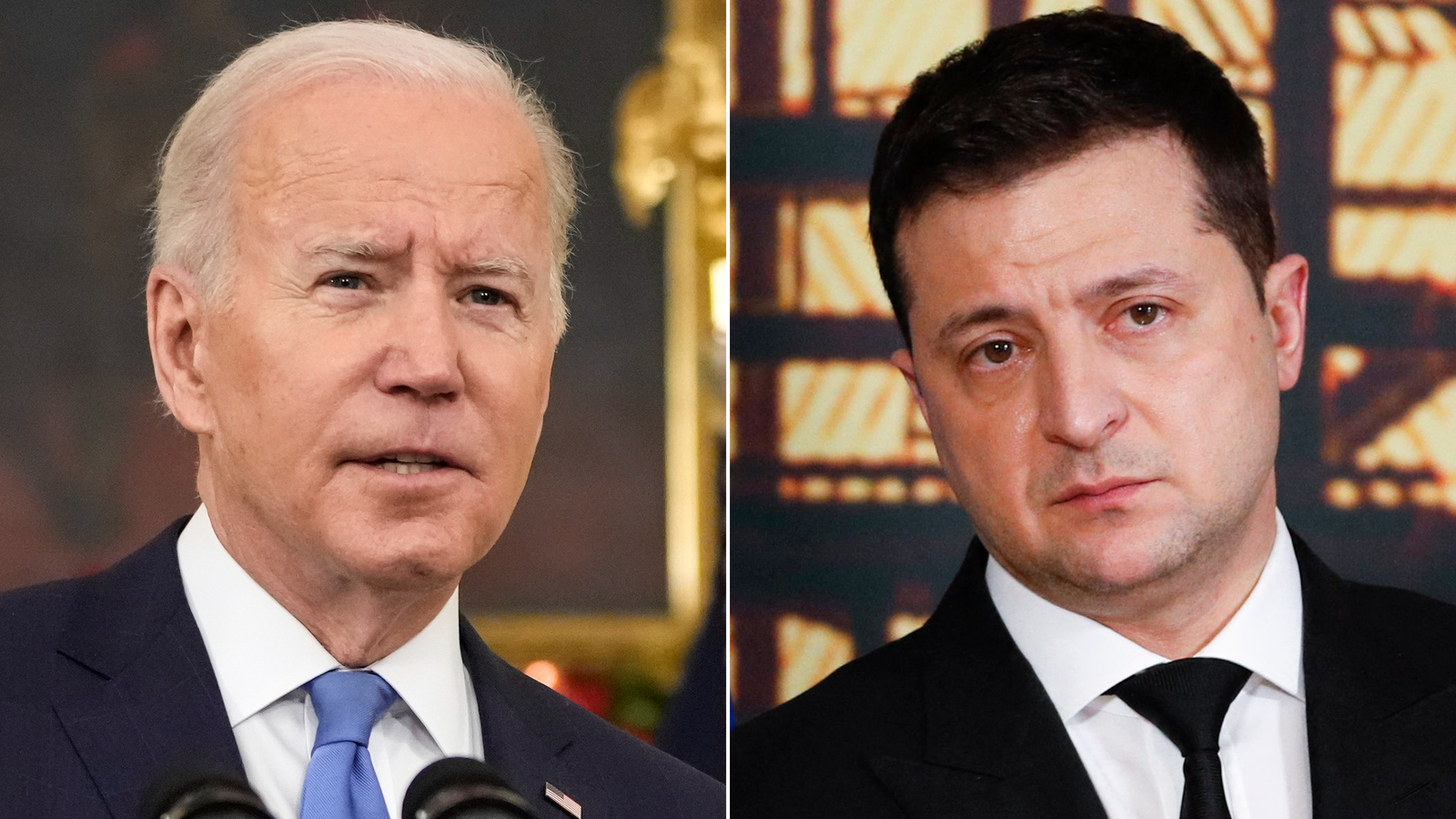 In a statement, US President Joe Biden said he spoke late Wednesday with Ukrainian President Volodymyr Zelensky via a secure call after Zelensky reached out.
"I condemned this unprovoked and unjustified attack by Russian military forces. I briefed him on the steps we are taking to rally international condemnation, including tonight at the United Nations Security Council," Biden said in the statement, adding that Zelensky had asked him "to call on the leaders of the world to speak out clearly against President Putin's flagrant aggression, and to stand with the people of Ukraine."
Biden added that he will meet with the leaders of the G7 nations, and that the US and its allies would impose "severe sanctions on Russia."
17 min ago
This map shows where explosions have been reported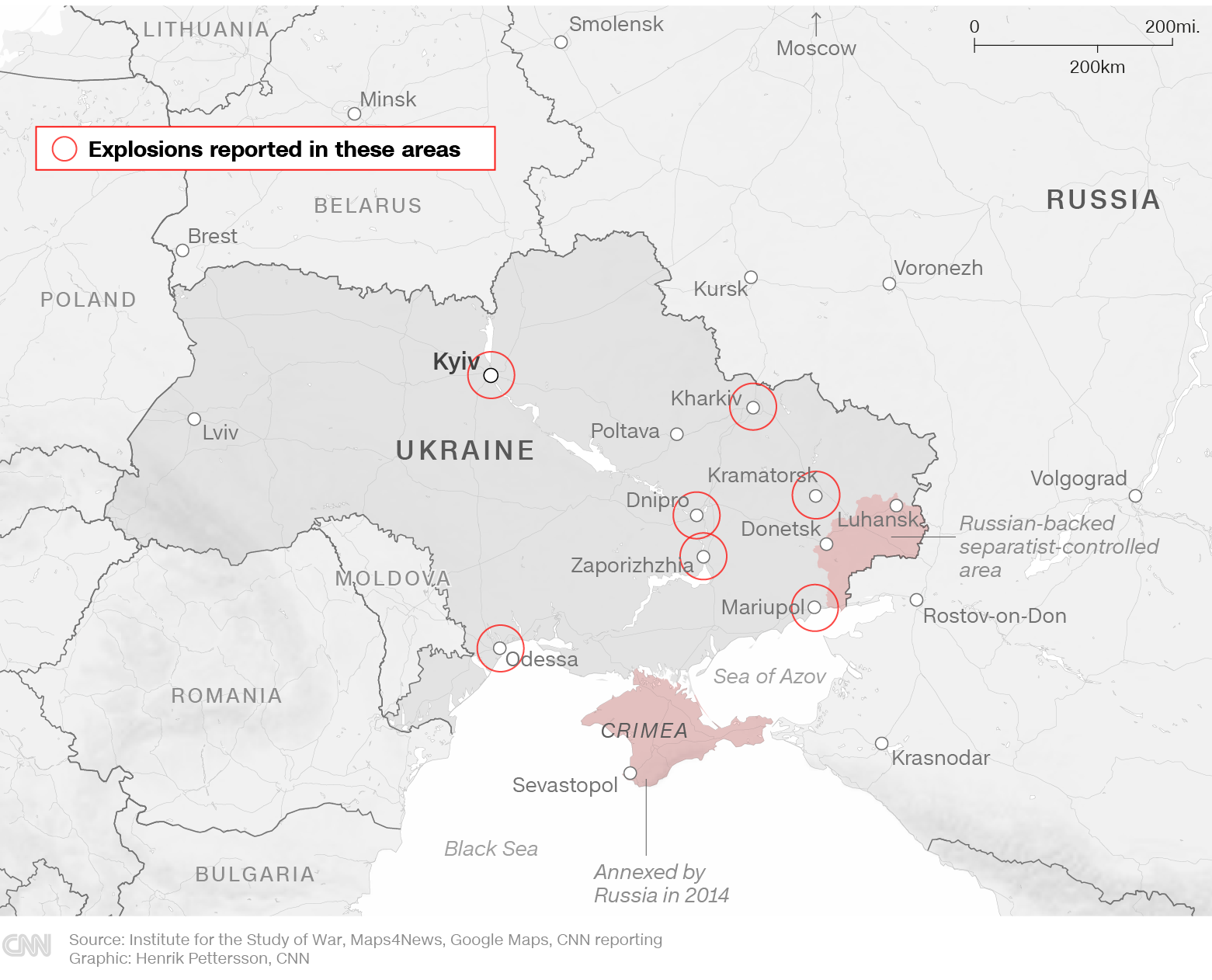 CNN reporters and witnesses in cities across Ukraine have reported hearing explosions in the early hours of Thursday.
Here's where:
Kyiv: CNN reporters in Ukraine's capital heard explosions from the east in the direction of the city's international airport. Social media users reported hearing several explosions in the Boryspil area to the east of the capital, where the international airport is located about 25 kilometers (15 miles) from the city. CNN has not confirmed that the airport has been targeted.  
Kharkiv: A CNN team in Ukraine's second biggest city, in the northeast of the country, heard a "steady stream of loud explosions."
Kramatorsk: Two people in the eastern city, located about 120 kilometers (75 miles) north of separatist-held Donetsk, told CNN they heard at least two massive explosions.
Dnipro: A resident of the central city told CNN they had heard "a few explosions."
Mariupol: Two residents told CNN they heard explosions east of the city, which is located in the southeast of the country.
Odessa: A CNN team in the Black Sea port city heard two groups of explosions about 20 minutes apart. 
Zaporizhzhia: A CNN team in the southeastern city said they heard at at least one very distant explosion.
Additionally, a CNN team in the Russian city of Belgorod, about 80 kilometers (50 miles) north of Kharkiv, said they heard a regular stream of thuds that sounded like outgoing artillery fire.
14 min ago
Top EU diplomat and European Council chief "strongly condemn" Russian attack
From CNN's Akanksha Sharma in Hong Kong
The European Union's High Representative Josep Borrell tweeted early Thursday morning, saying, "We strongly condemn Russia's unjustified attack on Ukraine." 
"In these dark hours, our thoughts are with Ukraine and the innocent women, men and children as they face this unprovoked attack and fear for their lives," Borrell said. "We will hold the Kremlin accountable."
Charles Michel, president of the European Council, posted the same tweet minutes before Borrell.
26 min ago
Ukraine's foreign minister says "world must act immediately"
Ukraine's Foreign Minister Dmytro Kuleba urged the world to "act immediately" in response to Russia's military operation in the country.
In a tweet on Thursday morning, Kuleba wrote:
"The world must act immediately. Future of Europe & the world is at stake. To do list: 
1. Devastating sanctions on Russia NOW, including SWIFT
2. Fully isolate Russia by all means, in all formats 
3. Weapons, equipment for Ukraine 
4. Financial assistance 
5. Humanitarian assistance"